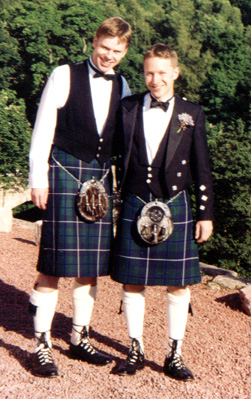 Welcome to our website. For those who don't know, that's Pete on the left and Tim on the right! This was taken at our friends Matt & Wakako's wedding (2000). It's the one and only time that Tim has worn a kilt!
In honour of our tying the knot on May 19th this year we've given our website a bit of an overhaul (long overdue). It'll probably look like this now for another 10 years!
There are now pictures of our civil partnership ceremony and celebrations in the gallery. As usual, comments are welcome!
Tim and Pete
Update (July 2006)
Amazing - we actually added more photos to the gallery - our holiday in Croatia this summer. Check out the gallery.